Process Dependent vs. People Depended – Why Organizations Must Build Process Dependent Infrastructure?
admin October 26, 2021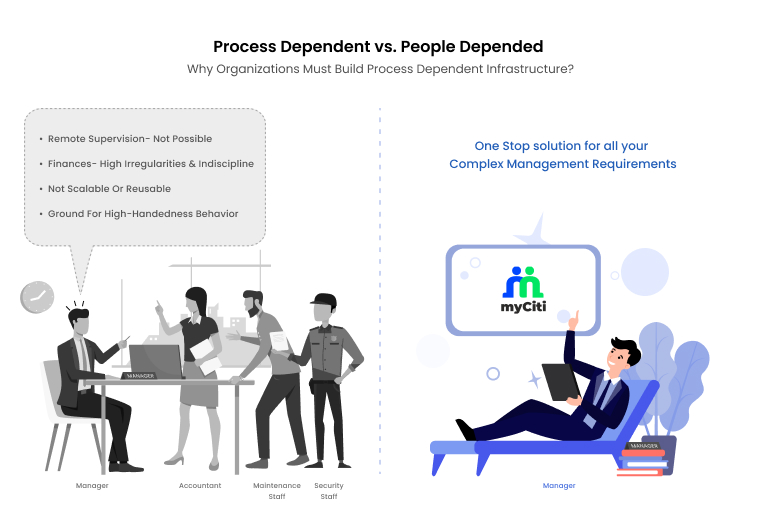 Process Dependent vs. People Depended – Why Organizations Must Build Process Dependent Infrastructure?
Complex management, either commercial or residential, deserves modifications and digitization to boost productivity, efficiency, and transparency. Managing commercial property demands proper planning to ensure compliance, limit property-related expenses, transparent balance-sheet, easy cash management, and overall satisfaction for the owners or tenants. It also requires robust maintenance arrangements and lifecycle predictions that provide approximate estimates and keep unpredicted expenses at bay.
However, the traditional norms of building management are tiresome and mismanaged at times.
Obligations while managing properties
Running and managing a complex can be strenuous. Hence, it is essential to have systematic processes and the right technical tools at your disposal. As the managing entity, you are in charge of:
Routine Checks and Complaints: Carry regular activities and address any service complaints or requirements from owners or tenants.
Maintaining Accounts and Billing: Generating the maintenance dues, distribution, follow-up, collection, accounting, and reconciliation are the most important aspects to be able to run a commercial complex smoothly.
Staff and Task Management: We rely on our ground staff to run the show. However, we must track their productivity, attendance, and other work-related activities to derive optimum outputs from them. Assigning and monitoring tasks related to the ground staff is a prominent aspect of management.
Tenant Management: It is essential to have up-to-date information of all the owners or tenants in your complex in an Intelligent System, as it can proactively alert you about any significant dates or exceptions.
In the traditional complex management setup, most of the operations are people-dependent. It makes the whole process a time-consuming and tiresome task. With the right technology and tools such as myCiti, you can change the system into a process-dependent one.
Let's understand both these structures individually.
People dependent management style for commercial properties
Most buildings, whether commercial or residential, follow a people dependant management system. Let us understand the essential roles in a people management system:
It is essential to stay connected with property managers, builders or society members, accountants, and other specialists. It also includes negotiation of the lease and supervising maintenance and cleaning activities. A commercial property manager must also pursue strong communication suites, organizational skills, and multitasking abilities. More skills are also essential as commercial management surrounds multiple areas and with its unique challenges.
It is another prime activity and is not just limited to renting spaces. It involves overseeing service providers who deal with maintenance and repair of elevators, hoists, and escalators. Managing security firms or personnel and waste disposal firms are also an essential part.
Knowledge of different laws:
While managing a commercial complex, it is essential to know different legal and building codes. Property management also involves restrictions and laws for property use and varied activities. It is also prominent to know legislation changes that are carried on an annual basis as you do not want to take wrong measures that can cost your business.
In commercial properties, garbage disposal carries high importance and needs serious consideration. There are different rules and regulations for the waste disposal of various materials, notably industrial waste. As a commercial property includes versatile tenants and owners, knowledge of waste disposal practices and laws is prominent. It also requires stringent control to prevent paying fine to the legal authorities.
Managing a property via a people-dependent management style also needs better emphasis on security. It is crucial to know the challenges faced while implementing safety measures. The process involves hiring security personnel, setting up surveillance cameras and systems, placing fire and burglary alarms, biometric controls, and more.
Commercial property management also involves prioritizing the safety of the tenants. All the safety measures and tools require periodical inspections. Without a streamlined process-dependent system, everything requires personal attention resulting in recurring, time-consuming, herculean tasks.
The above functions have multiple subtypes that vary as per the property types. It is prominent to manage these levels properly. However, at times, these systems can fail as they are purely people-dependent.
Drawbacks of people dependent system
Humans are an essential part of the management system. At times, the process becomes dependent on a single entity leading to unexpected delays and economic losses.
Following are the drawbacks of a people dependant management style:
No scope for scalability since the system is dependent on one or two people.
Your decision-making is solely based on the information you received from these handful of people.
It promotes high-handedness behavior as they know how reliant the entire system is on them.
Financial irregularities often thrive in such organizations.
It is therefore essential to make the management style process dependent rather than people dependent.
Process Dependent System
A process dependent does not eliminate the human resources but centralizes the complete management under a centralized and robust system. Backed by technology, the process-dependent system offers support to people to efficiently carry out day-to-day tasks.
The following reasons explain how process-dependent management style is beneficial over people dependent management style:
It makes daily management easy and factual
When compared with people-dependent processes, chances for human errors are evident. In this style, despite good intentions, there are higher chances that the manager might forget few important dates like account filings or maintenance activities, and many more. However, with a proper system in place, the manager gets auto-reminders of the eminent recurring activities, renewals, filings, compliance activities.
The auto-reminders feature ensures you are never late or miss a deadline. Ready-to-use templates, accounts assistance, bill generation, collection, and filing become easy with system-based management.
It makes compliant management time-saving and reliable.
The system should provide a single platform to admin, staff, and users for managing all kinds of complaints related to plumbing, electrical, fire inspections, and more. The system should also offer real-time updates for monitoring and feedback. It saves a great deal of time in follow-up and escalations for both management and users.
It brings accuracy and transparency to staff and task management.
Accurate and timely daily attendance is essential for management, so they have a handy list of IN or OUT timings. You can also know the actual working hours for any day of the year for all staff, made possible with a contactless integrated attendance system. Other staff management activities like leave tracking, payroll generation, salary transfers, and other tasks become smooth with a dedicated HRM Solution package. Also, assigning and tracking operations related to staff become very easy with complete transparency offering a comprehensive digital trail within the system.
Being compliant isn't a challenge anymore.
Compliance while filing taxes, lease terms, agreement documents, and more becomes an overwhelming task if done through papers, files, and fully manual processes. There should be a platform to assist, remind and track these activities through an easy-to-use interface.
It brings highly scalable opportunities.
While a people-dependent process can generate satisfying revenue, it does not offer much scope of expansion. A people-centric process works well for a single commercial complex. It does not provide scalability and expansion scope.
A process dependent management includes the use of technology. It creates a centralized system by digitizing the manual tasks into automated processes. This unified approach can help the owners to gauge the problems caused at multiple properties almost in real-time. It also helps to make factual decisions depending on accurate data and can help identify any financial drains. It can save critical management hours and generate additional income.
Invest in a long-term, sustainable solution.
A conventional management approach that centers around a single person can lead to grave issues if a person neglects his duties. It can lead to tremendous financial losses and loss of time and result in lower customer satisfaction. Hence it is essential to opt for a robust technology platform and process-based management style, ensuring all personnel is dependent on a system.
So, what do you prefer?
The big question now remains whether you want to continue the traditional people-dependent system or transform your complex management into a process-dependent system.
You can start your digital transformation now with myCiti Platform and take control of the entire complex management. myCiti helps property managers save time, scale progressively, and bring stability within the organization.
Our platform is highly flexible to manage all types of properties and set-up rules for providing you a tailor-made experience!
Contact us today for a FREE DEMO!